92% our best ever results in the Year 1 / 2 National Phonics test. The children and staff have worked SO hard during last year's lockdown and this term to achieve these amazing results!
Welcome to Landywood Primary School.
On behalf of all the Governors, Staff and Children I would like to extend a warm welcome to our school, we hope that you and your child enjoy your time with us.
At Landywood Primary School every child is as important as the next. In short, every child matters. Everyone at Landywood is committed to providing a caring and friendly school, a happy place to learn because happy children make engaged learners.
Our Ofsted inspection judged the school to be good in all areas. The inspectors identified "The curriculum is designed to ensure that pupils make good progress in English and Mathematics and develop their skills and knowledge in a range of other subjects through school's creative curriculum." Please click the link within 'Key Information' to download the Ofsted Report.
Landywood Primary School is an inclusive community and we promote tolerance and respect for all. We value the individual contributions our pupils bring to school and we encourage and support them to fulfil their potential.
Our aim as a school is to provide a warm, friendly, atmosphere in a safe, caring environment, where children will be happy and successful. To achieve this, it is important that the school and home work together in partnership. This partnership is built through a regular dialogue between parents, child and school.
We want all children to achieve the highest possible standards and make maximum progress in relation to their prior learning. We want children to enjoy acquiring and using knowledge and skills to question and explore, to acquire positive attitudes, to gain independence, to become lifelong learners.
Want to know more about our school? Have a good look at our website and even better, get in touch and arrange a visit.
Thank you for visiting!
Mr Clewer
Headteacher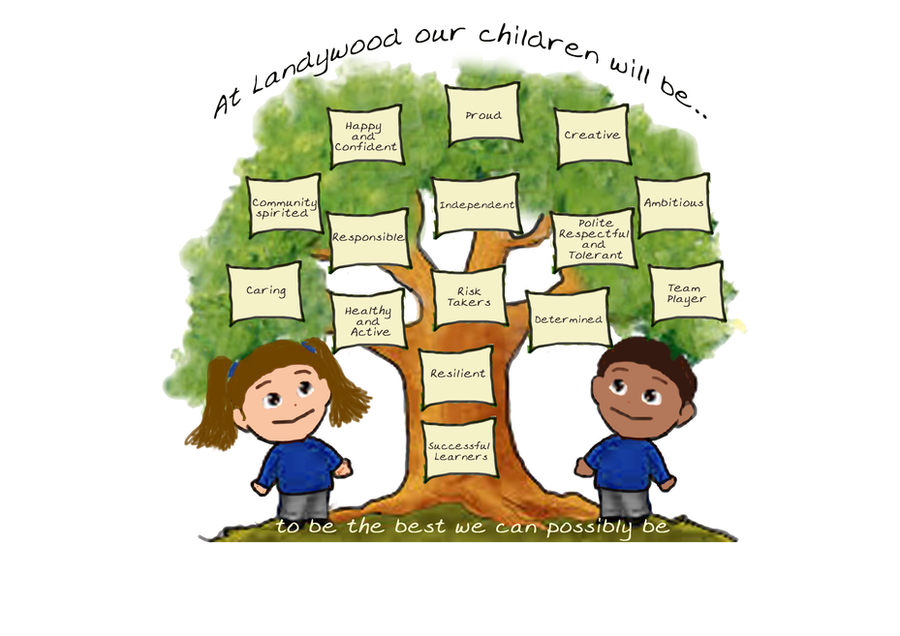 "popup-box"
Landywood Primary School is committed to safeguarding and promoting welfare of children and young people. We expect all staff, visitors and volunteers to share this commitment.
To read our Safeguarding Policy, please click here
Latest School Events
There are currently no events.
Calendars page(s): School >>
Comments (110)
Show Comments
Andy
(about a week ago)
Landywood Primary School commissioned me to support with the introduction of a Coaching Culture. The overall aim is to develop an inclusive and supportive environment, where everyone can fulfil their potential and pupils experience an exciting and engaging environment. Mr Clewer and the team are extremely passionate about Landywood's commitment to provide an inclusive community, promoting tolerance and respect. High value is placed on the individual contributions of pupils and all those who support the school. My role is to provide external guidance and a learning experience for all staff to enable this culture. The first step to embracing a coaching culture is individual and team personality profiling. A team who fully understand their own personality, that of others and collectively are far more equipped to support others, and develop a high performing team, with pupils at the heart of everything. On the 3rd of September 2021 the Landywood team attended a Culturev8te Discovery Insights Workshop, where they participated in a number of engaging activities to help understand themselves and others, we explored the strengths of the team as a whole and potential blind spots, which concluded with the team coaching each other, with particular attention to how they are adapting their personalities, to suit the world around them. The commitment to embracing a coaching culture with emotional intelligence will continue by tracking and defining all future projects, through the power of colour, ensuring the pupils experience is maximised. Thank you once again for the opportunity to partner with you going forward and for such an amazing day on Friday. Andy Kindest regards
Michelle Bartlett
(less than a year ago)
What a team! Well done on re-opening today, I'm sure an immense amount of work has been put in by all staff. Lucia has come as a keyworker all through, but has missed all her friends, so was really excited to come in today. I think the ice cream man coming was a lovely thought and I'm sure all the kids and staff enjoyed the treat. Thanks again, your all amazing
Mrs S Elson
(less than a year ago)
To all staff at Landywood Well I really don't know where to start with this email as yet again the support dedication and commitment you have all given to the children has been second to non weather you've been a doing live lessons ,setting work, sending emails, ringing to check how everyone is doing or in school teaching the Keyworker children. Yet again you have all gone above and beyond nothing has been to much trouble, always their with your continued help, support and encouragement, doing all this for the children always putting them first. You have made such an impact on their lives by giving them some kind of normality in these uncertain times. We think the support from the School and Staff has been first class, and we feel privileged that the children have been able to continue their education during these most difficult of times. For your part in making this possible, we are forever grateful. Keep up the fantastic work you all do, and above all, keep safe! I'll be sending in some treats to get you through your first week. From the Elson.
Chris Ford
(less than a year ago)
Please pass on the thanks to all involved for there hard week with the Teams issues, this week. I know from experience it will get easier and it is very good, once everyone's got it. Teachers involved helping my children, were miss Simms, miss cook, special shout to miss Stott and mrs Cole who I know had many issues to work through, but seems like we're getting it now. My children really look forward to these lessons, I can see the difference after just one week. If I can make one suggestion if not already in the plan, mr Selmon needs to do PE, our own joe wicks :-) I'm sure there are many more that have come together to enable this. For what it's worth I was involved with office 365 roll out about 2 years ago and we had a gradual role out over 6 months with extensive training and we had loads of problems so to do this with such short notice deserves a lot of kudos. Well done all. Thanks Chris Ford.
Mr C Cadman
(less than a year ago)
Just a quick note to say we think you are all amazing!!!!. Thank you for all your ongoing hard work and dedication to the children at landywood. We are behind you 100%. Best wishes. Helen and Christopher Cadman.
Seph and Lee Elson
(less than a year ago)
"A great big Thank You" to each and everyone of you for all the amazing encouragement that you have given Grace, Oliver and William in the few months they have been at Landywood. It has undoubtedly been the best move we ever made and we only wish we did it sooner, you have all contributed to the improvement they have all made while been at your school, to hear that they are all doing amazing and have settled so well it really does make us as parents so happy and proud that all our children are now part of Landywood and now enjoy coming to school every day, they are even willing to now do school work at home without been asked. We are delighted with their progress, We really can't thank each and everyone of you enough. From Steph and Lee Elson.
Heather Bird
(less than a year ago)
Dear Mr A. Clever, Thank you for booking us again for your children's first aid needs. The children enjoyed learning about CPR, how a Defibrillator works, recovery position, what to do in an emergency at home, and minor injuries of cuts, bruises and nose bleeds. We went through what the ambulance will ask over the phone and the importance in knowing their address. We understand at Landywood you have a few children who need the use of an EpiPen and an inhaler, and we felt it was vital that we spread awareness of anaphylactic shock and asthma. The children at Landywood School were a blessing to teach and well behaved. The answers they had given were impressive and we were very amazed out of all of year 5 only one child mentioned calling 911! We were super impressed with your children and how grown up they were in understanding how serious an anaphylactic shock can be and how important it is to call for an adult urgently. We even went through how to use an EpiPen with one pupil as his mom is an EpiPen user, he could not thank us enough for showing him and having the opportunity in having a go with our trainer EpiPen. We look for forward in coming to visit Landywood school, we know we will receive a warm welcome and the children are very friendly and well behaved. From schools we have visited, it is genuinely nice to see the headteacher walking around and having an interest in the children's learning. The staff are outgoing and approachable and helped us settle in. Under the current climate of COVID, it was great to have us back in to spread the awareness of first aid. It is very vital children still learn and COVID is not a barrier to learning. Thank you again for having us. Yours sincerely HMBIRD Mrs Heather Bird HMB Training Services
Kay
(about a year ago)
Hi, I just wanted to send an email to say a massive thank you for everything staff are doing to ensure a safe reopening on 1st June. The amount of work that has gone into planning is phenomenal and I wanted to express my gratitude to all staff for your dedication to doing your best for the pupils under such pressurised circumstances, and for providing so much information to enable parents to make an informed choice about sending children back to school. Anya will be back on the 1st of June as I trust you to do your very best under the circumstances, you have my full support. Additionally I just wanted to say thank you for all the work you have compiled and sent out each day for home learning. Although I've not been able to get through absolutely everything every day, Anya has found the work engaging and enjoyable and hopefully this will make the return to school easier. I hope you have a wonderful half term next week and manage some relaxation. Kay
Rachel Clarkj
(about a year ago)
Hi Claire , Please could you pass this message on to the lovely children at Landywood School: Thank you all so much for the most amazing, colourful and beautiful paintings you all sent in for the staff and patients at Walsall Palliative Care centre. The pictures were shared between the St Giles In Patient Unit and the Palliative Care Services within the building and are making our walls and doors look beautiful! They are definitely bringing a smile to everyone who sees them and are appreciated so much! Thank you all, you talented little stars! Rachel Clark Team Lead Specialist Complementary Therapies Cancer & Palliative Care
Michelle Bartlett
(about a year ago)
We have received news today that Mrs Thaker will be retiring after an amazing 26 years at Landywood. We wish her all the best and hope she has a wonderful retirement, she has been such an asset to the school and will be greatly missed. I am quite sad she won't get to teach Lucia but so happy Amelie benefited from her vast knowledge and she will always be remembered by Amelie as one of her favourite teachers and the one who gave her the pen licence!
Show More Comments