Please call 01922 857020 to book a tour around our school.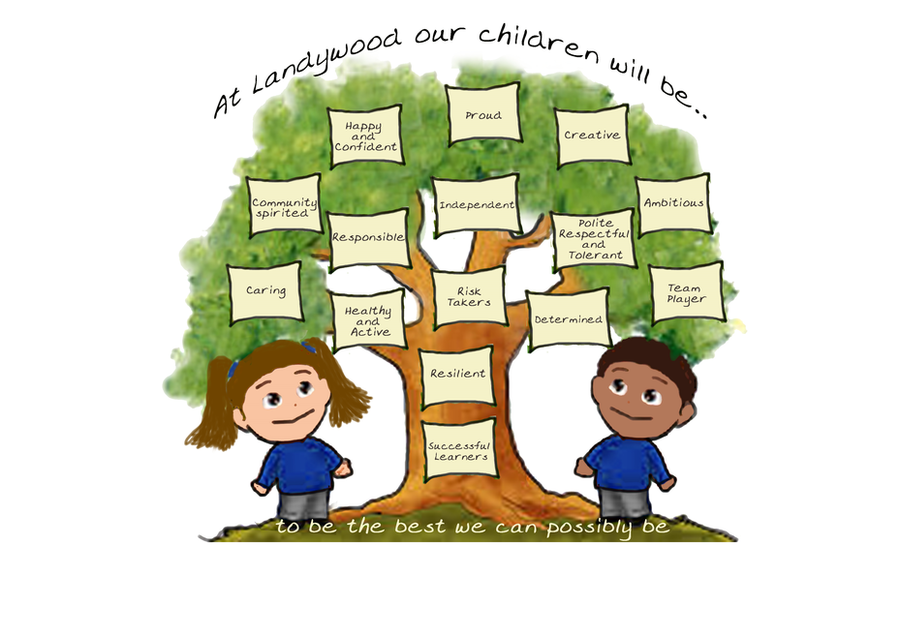 Welcome
Welcome to Landywood Primary School.
On behalf of all the Governors, Staff and Children I would like to extend a warm welcome to our school, we hope that you and your child enjoy your time with us.
At Landywood Primary School every child is as important as the next. In short, every child matters. Everyone at Landywood is committed to providing a caring and friendly school, a happy place to learn because happy children make engaged learners.
Landywood Primary School is an inclusive community and we promote tolerance and respect for all. We value the individual contributions our pupils bring to school and we encourage and support them to fulfil their potential.
Our aim as a school is to provide a warm, friendly, atmosphere in a safe, caring environment, where children will be happy and successful. To achieve this, it is important that the school and home work together in partnership. This partnership is built through a regular dialogue between parents, child and school.
We want all children to achieve the highest possible standards and make maximum progress in relation to their prior learning. We want children to enjoy acquiring and using knowledge and skills to question and explore, to acquire positive attitudes, to gain independence, to become lifelong learners.
Want to know more about our school? Have a good look at our website and even better, get in touch and arrange a visit.
Thank you for visiting!
Mr Clewer
Headteacher
Latest School Events
February Half-Term holiday

20

Feb

2017

Teacher Training Day School closed for children

27

Feb

2017

Shrove Tuesday Special Menu

28

Feb

2017

12:00 pm - 1:00 pm

Book Fair

01

Mar

2017

Parent Evening

01

Mar

2017

4:00 pm - 02 mar, 8:00 pm
Comments (37)
Show Comments
Michelle Delaney
(less than a month ago)
Please can I express my gratitude to Miss Rudge for the kind and professional way she handled a situation with my son, Olly. I have considered writing before as I feel she always goes above and beyond to ensure that my child and others feel happy and safe during their learning, something which is echoed by many other parents. My son was upset at home on Tuesday evening and reluctant to come to school yesterday morning.  Usually he is bursting to get through the door.  He wouldn't tell me in detail why he was upset, just that he was finding school hard.  I sent a note in for Miss Rudge to explain and she quickly identified the problem, offered reassurance and a solution.  My son came out of school full of confidence and happy again.   I appreciate this may seem a run of the mill, every day occurrence but it's so upsetting seeing a usually happy child, crying and not wanting to go to school. Mrs Morris was extremely helpful and approachable too when I called in to get an update.   Thank you to both of them. Kind regards Michelle Delaney
Nick Bennett
(less than a month ago)
Thank you for showing me around today, I realise you were very busy. I hope the Maths day went well. All the children certainly seemed engaged and enjoying themselves. I really enjoyed looking around your school as there was a really calm atmosphere and this was reflected in the behaviour of the children and the friendliness of the staff. Many thanks, Nick Bennett.
Rachel Mills
(about a month ago)
I always enjoy my time at your school. A big well done with all the actions you have put into place in your school. The enchanted forest is delightful and staff have worked hard on their reading areas. Your pupils were an absolute pleasure to talk to and were extremely enthusiastic about their reading and were keen to discuss their learning.   Rachel Mills Teacher Consultant for English
Sarah Billingon
(about a month ago)
Good evening Mr Clewer.  Firstly I would like to take this opportunity to thank you what you have done for my children since attending your school. They have settled well. I am writing to inform you of an achievement of Edele in Year 6.  In February she will be performing at Her Majesty Theatre in London with Dance Fusion, after auditioning for a place. A Huge achievement I'm sure you will agree.  Not only that but the same week on the Thursday she will be performing at Regent Theatre in Stoke on Trent, with dance fusion also.
Karen Yates
(about a month ago)
believe it's good to receive positive feedback (as well as negative).  I just wanted to say thank you to all involved for managing our safety into the school grounds today. It was managed extremely well and I really appreciated the efforts made by everybody to get the children into school safely, minimising the risk and as quickly as possible.   Regards Karen Yates
Aleksander John 2016 4C leaver half way through the art project
(about a month ago)
I hope you are all doing well at landywood primary.
Nicki Hamilton
(about a month ago)
Landywood School is such an exciting place to be...from the amazing transformation of the reception area into an enchanted forest, to the vibrant and colourful displays of photographs of children around the school. Visually and aesthetically, the school is looking so bright and fresh! Between this and how hard all the staff are working every day, its a wonderful place to be!
Mrs Trow
(about a month ago)
Just a quick note to say how well I think yourself and the school handled getting the children into school quickly and efficiently in the snowy weather this morning. It means a lot to parents to see the Headteacher out at the gates in such conditions ensuring the safety of our children. Thank you very much, Mrs Emma Trow.
Heather Norman
(about a month ago)
I would like to say a very big thank you to you, the staff and the children that attended our Book corner, here at Sainsbury's.   May I say it was a pleasure and great fun, I do hope that the children enjoyed themselves and feel inspired to start their own stories with the notebook that was part of their gifts in the goody bag. Kind regards   Heather Norman PR Ambassador Cannock Sainsbury's
Alan Hodgkinson
(about a month ago)
I have looked at the school website as I have applied for the position of site supervisor and feel that this is a school that encompasses everything I am passionate about.
Show More Comments