Our Vision
Landywood Primary School's vision is "To be the best we can possibly be."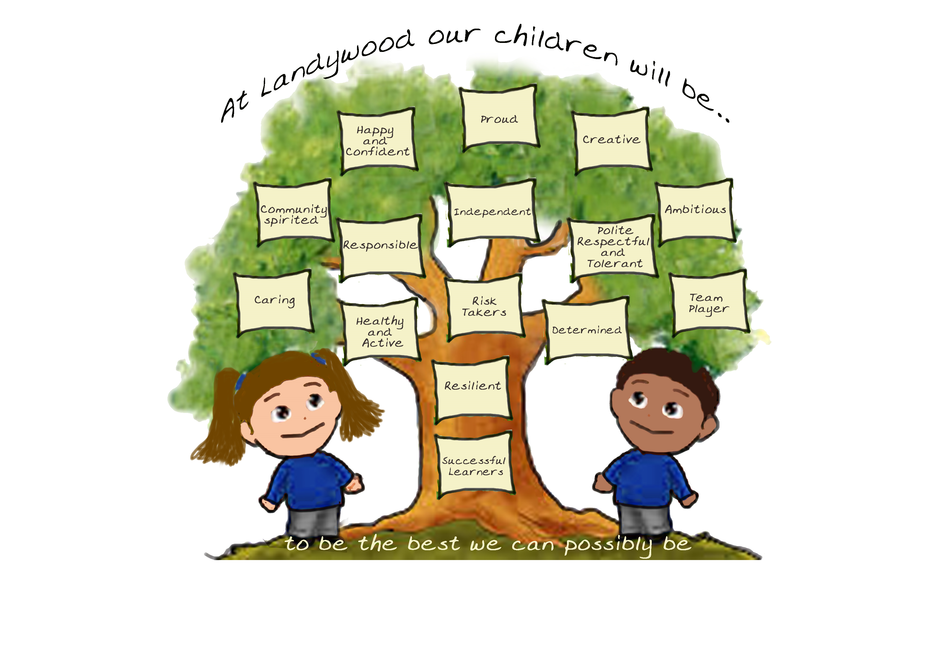 Our Aims
We will endeavour to:
Create an environment where children can successfully fulfill their potential.

Offer children a rich and challenging curriculum.

Achieve high standards in all areas of the curriculum.

Encourage children to enjoy their learning and prepare for their future.

Create in all members of our school a pride in belonging to a successful school.

Encourage all children to feel successful in what they can do.
Our School
Landywood Primary School currently has 401 children on roll, aged between 3 and 11 years old, (Nursery including wrap-around to Year 6). We also have a preschool for children aged 2 and older. We are situated on an extensive campus, with a wide range of facilities available. Tree House Club provides before and after school care.
Our Pan is 60

,

meaning 60 children can join our school every year in our Reception classes.
In addition to the Primary School, there is Holly Lane Nursery, which is a privately-run organisation caring for children from 12 weeks old to 4 years. A Children's Centre on site runs courses and programmes for families and very young children.
School Organisation
The school is organised into three phases.
The Foundation Stage (our Nursery and two Reception Classes) are housed in a separate open plan unit which is completely self contained. Nursery and Reception each have an enclosed outdoor play area.
All our classes are arranged into phases:-
Nursery & Reception (Foundation)

Year 1 and Year 2

Years 3, 4, 5 and 6
Facilities
We have a large, well maintained site which gives us the ability to provide good care and exciting opportunities for pupils. We have a dedicated

medical room, Community Room and

Home

School Link office.
Outdoors

,

we have a playground for each phase, plus very extensive grounds which hold an adventure playground and an outdoor stage set in its own amphitheatre.
We have three woodland areas, where class have a session of Forest School activities each week, and a garden area, where children grow vegetables and plants each year.
As a school we believe that children learn best when they are safe, happy and motivated and we have worked hard to ensure that our facilities and curriculum enable us to develop the whole child.
At Landywood we are committed to providing the best educational experience for the pupils, and we constantly strive to live up to our motto: "Being the best we can possibly be".